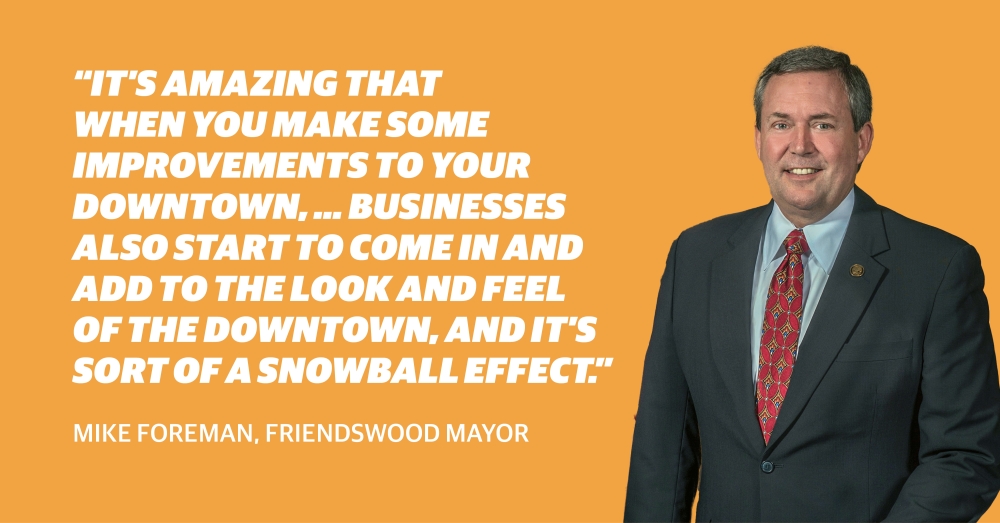 The town of Friendswood is expected to experience unprecedented development over the next five to 10 years, Friendswood Mayor Mike Foreman said, with the majority occurring downtown.
Downtown will have three new developments completed by 2024: one started in April, a second will start this year and a third will start in 2023. One of the developments is a 30-room boutique hotel, named the 161 project , which will be the first hotel within the city limits of Friendswood and will operate as its own community with apartments, offices and retail space, said Brett Banfield, co-owner of Banfield Properties, which is developing the 161 project.
"That's always been the vision for downtown," said Friendswood City Manager Morad Kabiri. "You can't have a robust, vibrant downtown without residential units nearby."
Along with downtown developments, the city is also putting the finishing touches on downtown revitalization and planning for the city's future by updating its master plan. Developers are also building three new planned communities that will contribute to residential growth in the city.
Bringing the city center to life
Development at Friendswood has not always been on the rise. According to Banfield, downtown Friendswood was in decline in the 1980s.
"In the late 90s and early 2000s, downtown Friendswood looked so bad that investors and lenders started turning away," Banfield said.
Downtown development, which is anchored by South Friendswood Drive, began to take off around 2015, Banfield said. It was then that Banfield, then head of the town's Community and Economic Development Committee, presented his findings on the town center to Friendswood Town Council, noting the amount of undeveloped land on which the city ​​was seated.
According to the presentation, there were 25 vacant lots and buildings across the city, including 734,225 square feet of vacant commercial property within a 1-mile radius of Friendswood Drive. The city generated $21,403 in property tax revenue from these properties in 2014. Since the presentation, 10 of the 17 acres of land have been redeveloped and added $23.6 million to the property tax base commercial, Banfield said via email.
City officials expect the three ongoing developments to generate a large amount of sales taxes, and they said they hope to reduce the amount of property taxes residents must pay.
"Over the last 20 years or so we've been focused on diversifying that tax base beyond just residential, so there's been a big push to get commercial growth," Kabiri said. The three incoming town center developments are the Albritton, Project 1715 and Project 161 – the first two being developed by Tannos Development Group.
The Albritton, located at 408 S. Friendswood Drive, will be a $31 million mixed-use development comprising apartments and retail, and construction will begin later this year. The $20 million 1715 project, located at 1715 S. Friendswood Drive, is a medical office building that began in April, Tannos Development Group President Louis Tannos said. The projects will be completed in 2023 and 2024, respectively.
Meanwhile, Banfield Properties' Project 161 will include 30 hotel rooms, retail space, offices and 30 multi-family units. The estimated $20 million development will be located at 161 W. Shadowbend Ave. Project 161 is in design, and Banfield said he hopes to start in early 2023 and open by the end of 2024.
One of the main reasons for building the hotel is so that Friendswood residents can put their families somewhere for graduations, weddings and reunions, Foreman said.
Several downtown revitalization projects are also underway. A $3 million project funded by the Texas Department of Transportation is nearing completion and involves improving sidewalks, ramps, crosswalks and traffic lights on S. Friendswood Drive between FM 2351 and Whispering Pines Ave. The project, which began on June 14, is expected to wrap up at the end of May, according to Aubrey Harbin, director of community development at Friendswood.
The city is also securing uniform street lighting and wayfinding signage to help tie it all together, but won't know more about costs and timelines until late summer, officials said.
"It's amazing that when you make improvements to your downtown in this way, businesses also start to come in and add to the look of downtown, and it's kind of a snowball effect. ", Foreman said.
To look forward
Along with the three downtown developments, city officials are also considering developments outside the downtown core.
The city updated its previous land use map from 2008 at the end of 2021.
"The future land use map is a guide that the commission and the city council should use to make future zoning decisions," Harbin said.
The future land use map is part of the overall plan, last updated in 1998, which is considered a living document that tells the story of Friendswood, according to Harbin. The new plan will include updates to community facilities, drainage, and the parks and recreation master plan.
In addition, the city has three planned communities in the works. The three planned communities are the Avalon in Friendswood; Friendswood trails; and Georgetown, which is still in the planning phase. They are expected to bring a combined 995 lots to the city, but the city still has at least 25% land mass to develop, Kabiri said.
"While these projects are monumental for Friendswood given our history, there are still projects to undertake," Kabiri said.