Although the bathroom is not the first thing people see when entering a home, don't underestimate the effect of a well-designed bathroom. Whether you are remodeling or building a new home, designing a stylish bathroom will make your home feel more luxurious. Check out the following four things you should include in your new bathroom design.
soaking tubs
A freestanding tub gives your bathroom a luxurious vibe, and you can spend days at the spa whenever you feel like it. If you have room for a deep tub, don't hesitate to invest in this one. Even if you have a small space, don't rule out a freestanding tub. There are smaller options for cramped bathrooms, so do your research.
Freestanding tubs come in different sizes, shapes, and materials, so you can find one for every style. Acrylic and fiberglass tubs are lightweight, easy to clean and maintain, and fit perfectly into a modern bathroom. Cast iron tubs are heavy, durable and retain heat well for those who enjoy long hot baths. They are expensive, but they last for many years if properly maintained. A copper bathtub is a centerpiece that complements both traditional and modern designs. They retain heat well, are easy to clean and add a beautiful aesthetic element to your bathroom. No matter what style you're looking for, you'll find a deep soaking tub to suit you.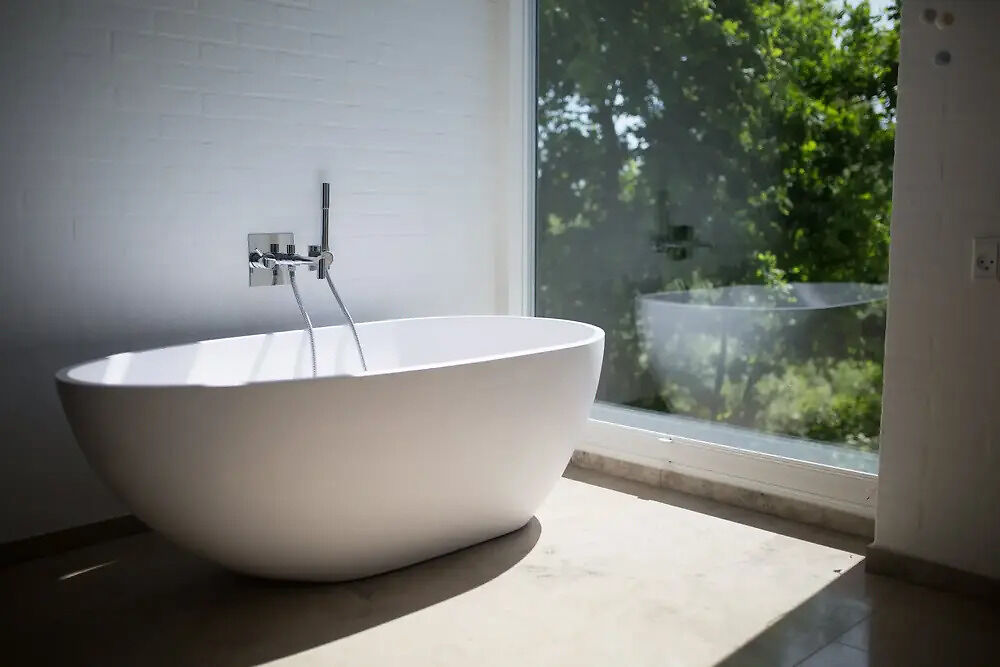 Heated floors
Heated floors are an increasingly popular feature. Imagine stepping out of the shower or bath onto warm tile floors. Radiant heating is easy to install, provides even heating in your bathroom and is maintenance free.
Electric and hydronic radiant floor heating systems both heat your floor, but you should consider the differences before choosing one. Electrical systems are easier to install and you can even install them yourself. They work with all types of flooring, so you don't have to worry about their compatibility with your chosen floors. Hydronic systems cost more to install and you need to hire a professional. They also take longer to heat up. Generally, electric radiant heating systems are the best option for a smaller space like a bathroom. They are energy efficient and are another luxury not to be overlooked in your bathroom design.
Sinks and light fixtures
A unique sink adds a touch of personality to your bathroom. An elegant single sink blends perfectly with a modern design. Choosing a sink that complements your design is a perfect way to make your bathroom stand out.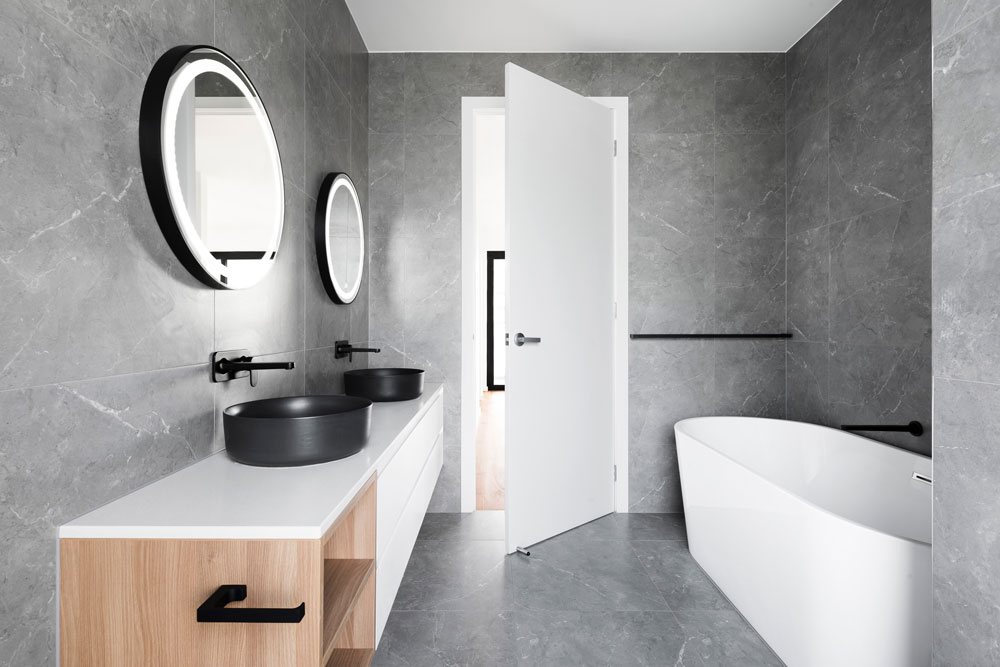 There are many types of sink installation to choose from, such as drop-in, wall-mount, drop-in, pedestal, and vessel sinks. The type of installation you should choose depends on the space you have, whether you need under-sink storage, and your personal preferences. Undermount sinks give you plenty of counter space, while vessel sinks let you choose a unique bowl style that matches your design and adds an aesthetic touch.
You can also choose a material that matches the style of your bathroom. Granite, stone or wood sinks are perfect if you are looking to add a natural element to your bathroom design. Glass sinks are another unique option. Ceramic sinks are great if you want a sink that is durable and easy to clean.
Plumbing fixtures are another area where you can show off your style. Quality fixtures last longer and are a worthwhile investment. Choosing fixtures with unique colors and designs will take your bathroom design to the next level.
Practical Bathroom Features
Paying attention to detail and including practical features in your bathroom will pay off in the long run. You'll save yourself some "why didn't I think of that" regrets in the future. Do extensive research on the practical features that people include in their bathroom designs. Hair dryer and curling iron storage drawers with in-drawer outlets are perfect for keeping your heated tools from cluttering up counters and causing a hazard. A heated towel rail is a luxurious feature perfect for anyone who loves a warm towel after stepping out of the shower. Placing your shower controls on the opposite end of the shower head allows you to stay dry while you wait for your shower to warm up. Handheld shower sprayers are another handy detail to include. You can use it to rinse shower walls or shower your children and pets.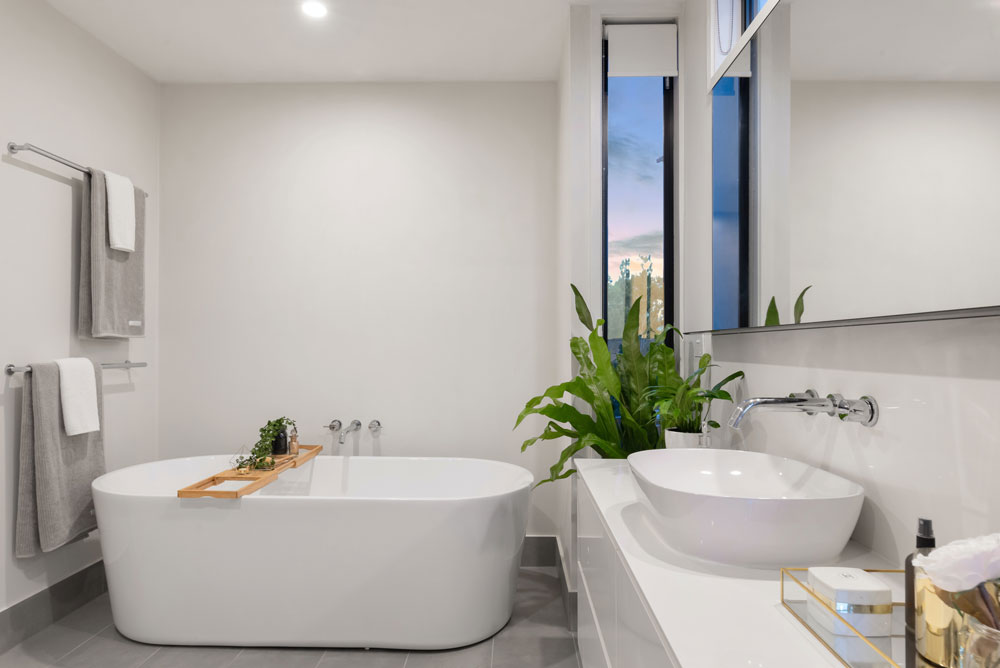 The most practical bathroom items are the ones you will use. Take the time to research and find features that will benefit you and your family.
A great bathroom design takes time and effort, but it's worth it. You'll be glad you took the time to choose the perfect tub, sink and accessories. And you will never regret installing underfloor heating. A functional bathroom with practical features can also be a nice place to bask in the tub after a long day. So don't skimp on the design of your new bathroom. Choose design and features you'll enjoy for years to come.