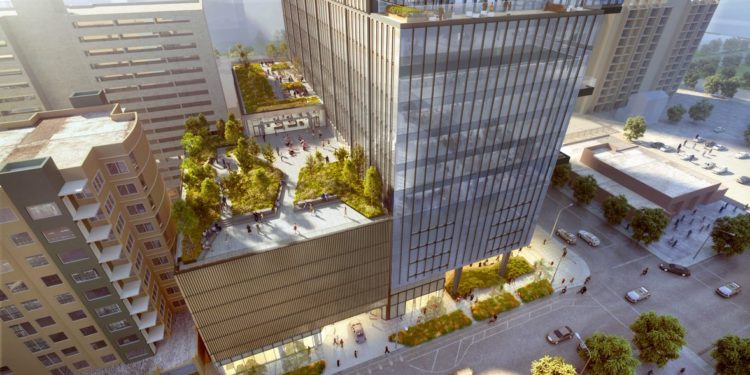 A $400 million Lawrence office tower is set to open, as the first development of Chicago-based Riverside Investment & Development Co. in Denver, Colorado. Developers say the 30-story building at 1900 Lawrence will include more than 700,000 square feet of office space and 10,000 square feet of ground floor retail, with a delivery date scheduled for the second quarter of 2024.
Vice President Chris Payne of Riverside, mentioned that the Lawrence office tower project in Denver was designed with a focus on next-generation innovations in health and wellness, sustainability, technology and accreditation programs.
Look for construction leads
Read also Construction begins on new MetroNational office building, Houston
Payne also pointed out that despite the challenges various businesses were facing amid the pandemic, this office tower project had the potential to create huge opportunities for existing and new tenants (businesses) in the market. He explained that the new office building would be developed as a flexible speculative space, with the aim of enhancing workers' creativity, collaboration and teamwork, which is unattainable in a remote environment.
Design plans for the Lawrence office tower project
The Lawrence office tower designs will include private tenant terraces, floor-to-ceiling glass, multi-purpose conference rooms, a fitness center, tenant lounge, and tenants will have direct access to a landscaped outdoor terrace of 10,000 square feet. Additionally, the building also offers post-pandemic features such as hospital-grade ventilation systems and touchless elevators.
According to Payne, none of the other office buildings in the area have private outdoor spaces and this new office tower in Lawrence would also provide tenants with minimum fresh air requirements well above code. He said the design and technology used for the building ensures that there will be no recirculation of air between floors and only dedicated fresh air will be introduced at any time.
Jamie Roupp, the managing director of JLL, which is responsible for managing rental agreements for the Lawrence office tower, also pointed out that the office building would be in high demand by top employers, due to its proximity to LoDo, building size, scale, and views offered.
Other companies involved in the development of the Lawrence office tower project include Convexity Properties and Canyon Partners Real Estate LLC, the partner companies working with the developers on the project; Goettsch Partners, as architect; and Hensel Phelps, as general contractor.